Pendekars (Great Grand Masters)
+
-
Grand Master Ernestos Presas, 10th Degree (Arnis, Arjuken, Kombatan)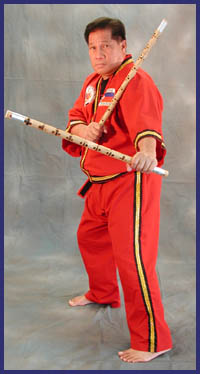 Ernesto Amador Presas was born in the coastal village of Hinigaran, Negros Occidental, Philippines on May 20, 1945. He began his training in the Filipino martial arts at the age of eight under his father, Jose Presas, a well-known stick fighter of his generation.
Grandmaster Ernesto Presas is a multi-talented athlete. He was a collegiate athlete in track and field, football and basketball. His training in the martial arts is eclectic. He holds the rank of Lakan Sampu (10th Dan) in Arnis, Lakan Sampu (10th Dan) in Mano-Mano (hand to hand combat) and 8th Dan in Filipino Weaponry. He is recognized as a ranking expert in Judo, Jujutsu, Bo Jitsu, Kendo, Tonfa, Sai, Chaku, Balisong, and Karate.
As a young man, his dream was to reintroduce the art that was so long an integral part of Filipino history and culture. However, he realized that the classical systems presented a limited appeal to those living in the modern world. By analyzing the conceptual framework of the classical systems, he revolutionized the native martial arts into a complete effective fighting system appealing to martial arts students in contemporary society. Nevertheless, he was confronted with a Filipino society that valued foreign cultural icons, including martial arts.
A turning point came in 1970 for Grandmaster Presas. To renew the art that was dying in the Philippines, he began teaching the Filipino martial arts at the University of the Philippines and the Lyceum of the Philippines. In the same year, he was invited to Japan to demonstrate the art of Arnis at "Expo 70." Challenged to compare Arnis to the well-know sword styles of Japan, he quickly earned the respect of the Japanese masters who called his art Filipino Kendo. After returning to Manila, he established his first dojo with the help of his compadre, Modern Arnis grandmaster, Frederico Lazo. Later that year, Grandmaster Presas founded the Modern Arnis Association of the Philippines International and ARJUKEN (Arnis-Jujutsu-Kendo) Karate Association International to formally propagate the native art within the Philippines.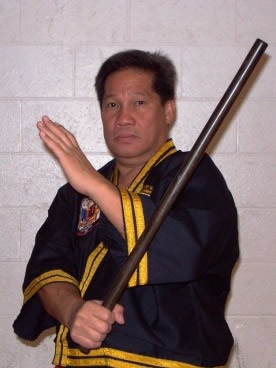 His martial arts teaching duties expanded to include classes at the University of Santo Tomas, Central Colleges of the Philippines, the Far Eastern Military Academy, Philippine National Police Academy and the Philippines Air Force Officer's School.
Grandmaster Presas yearned to introduce the Filipino martial arts to the outside world. In 1975, he founded the International Philippine Martial Arts Federation. From that point on, his Presas Arnis style and techniques became widely adopted in Germany, Denmark, Sweden, Norway, Switzerland, Canada, United States, Mexico, Puerto Rico, New Zealand, Saudi Arabia, South Africa and Australia.
He has published extensively. His books, The Art of Arnis, published in 1981 and Arnis: Presas Style and Balisong, in 1985 demonstrate the basic techniques of single and double cane, espada y daga and the balisong knife.
Grandmaster Presas diligently researched the Filipino martial arts for over 30 years to develop a systematic approach to the application of Arnis style into a complete hand-to-hand combat style called Mano-Mano. In the June 1991 issue of Inside Kung-Fu, he was featured in the cover article "Ernesto Presas: The Father of Mano-Mano."
--Biography courtesy of Jose Paman

Grandmaster Presas made his transition on November 1, 2010, leaving his art to his son, his teachings to his students, and his legacy to the world.


+
-
Grand Master Arthur Sikes, 10th Degree (Kuntao, Gong Fu, Pukalan)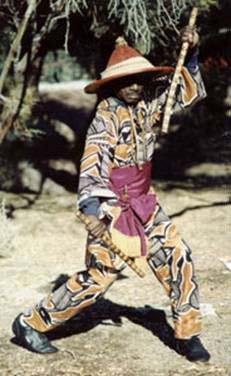 GRAND MASTER SIKES, started his martial arts training at age 9yrs,when his uncle introduced him to Judo and Boxing. Later, his training continued in the military when he joined the Screaming Eagles - 101st Airborne Infantry, Ft. Campbell, Kentucky and 3rd Army Engineers. He received Special Forces training in Combat Judo. In the late 1950's Grand Master Sikes began to study the various styles of Okinawan Karate with American instructors, and holds a 5th Degree Black Belt in Karate from his teacher Great Grand Master Willem A. Reeders. Under the guidance of Master Durant and Grand Master Reeders, Grand Master Sikes studied Goshen Martial Arts. Simultaneously, Grand Master Sikes studied with Master Willie Wetzel - Indonesian footwork and held the title GURU - (translated means teacher).
In the late 1960's Grand Master Sikes was a champion fighter and referee in the Professional Karate Circuit. In 1972 , he put aside these activities to begin his "TEMPLE" training in the mountains, in Meditation for Spiritual Enlightenment. He was given his rank and title by his teacher Great Grand Master Willem A. Reeders, who, in the early 1960's through the 1980's, was Liu Seong, head of the World Kung Fu Federation through Huc Choi Hau of China (translated means Peoples Republic of China or Chinese People). This rank was certified and witnessed by:
Willem A. Reeders - Indonesia - China - USA
Vice President Tam Kim Sjong - Hong Kong
Chairman Paul Tjan - Toronto Canada
Advisor Sam Wong - Toronto Canada (Grand Master Wong resides in the USA and became Liu Seong of Huc Choi Hau Federation.)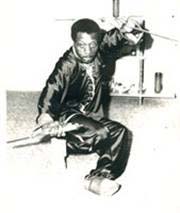 Great Grand Master Reeders, awarded only one person, Grand Master Art Sikes, the rank of MASTER 4TH DEGREE in Chinese Kung Fu through the Liu Seong Kung Fu Federation. This is the highest rank awarded in the USA and has been witnessed by those stated above. These credentials can be verified through the World Kung Fu Federation located in New York State.
In the early 1980's the Great Grand Master Reeders retired from the World Kung Fu Federation, as did Grand Master Sikes. Â Grand Master Art Sikes subscribed to and taught a rigorous system of meditation and physiological exercises for the development, self-preservation and channeling of the "Life Force" energy, in order to promote Knowledge of Self. His students speak of him in terms of the Tao or "natural way" of doing things.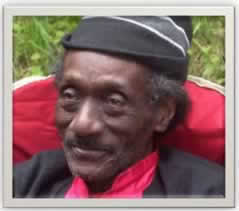 The African-Asian sciences and Royal Arts that Grand Master Sikes expounded throughout the world, encompassed not only the technical, physical and internal aspects of these sciences, but also the historical and developmental aspects of these arts and sciences as well.
Grand Master Sikes dedicated his life to enriching the lives of others, by unselfishly teaching a true and original art. Sadly Grand Master Sikes passed from this world in July of 2008. His teachings live on through his students and the master instructors of the North American Self Defense Association.
Punong Guros (Masters)
+
-
Dr. E. K. Jackson, 9th Degree (Arnis de Mano, Tai Chi Gung)

Dr. Ed Jackson began his martial arts training as a young child studying the arts of Tang Soo Do, Hapkido, American Kenpo, Kajukenbo, Escrima, Silat, Traditional Arnis de Mano, Modern Arnis, Kombatan, Gung Fu and Kun Tao. Dr. Jackson has trained with several of the legends of Martial Arts, including Ed Parker, the CHA3 Kajukenbo Association, Rodel Dagooc, Remey Presas, Ernesto Presas, and Arthur Sikes.
After completing the Doctor of Oriental Medicine Program at Santo Thomas University, Dr.Jackson did post graduate research at the NASDA University of Arts and Sciences. His doctoral thesis focused on a metanalysis of the factors which promote health and the relation to culture/lifestyle. He came to the Southwest having received extensive training in Oriental Medicine, Acupuncture, Nutrition, and Osteopathic Technique.
His philosophy is grounded on the principles of Mitakouye Oyasin. This phrase comes from an American Indian prayer which translated means "All My Relations." Mitakouye Oyasin includes the entire web of life, the "people," "animals," "birds," "things that swim," "plants," and all of creation. All are considered sacred and equal. A related understanding is that of the Medicine Wheel that represents non-human life and all human races, the four directions—East, South, West and North, and the four aspects-mental, emotional, physical and spiritual. The world has much to learn from the indigenous philosophies which honors all of creation, and the world is in need in the current time of change. Dr. Jackson's goal is to bring about integration and balance by having a healer in every household.
+
-
Professor Joe Salomone (Kuntao Silat, Tibetan/Indonesian Tai Chi)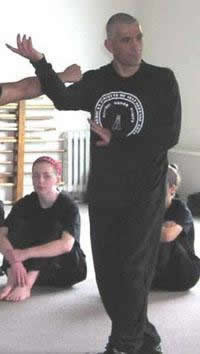 Joe Salomone began his studies in 1973 as a member of the Liu Seong Royal Kung Fu Club in Las Vegas, Nevada under the tutelage of his teacher Grand Master Arthur Sikes. His teacher was a senior student of Great Grand Master Willem Reeders (Liu Seong). To further enhance his skills he entered the world of amatuer boxing from 1977-1984, He became a five time Nevada State Golden Glove and ABF champion, and was selected to represent the U.S.A in International Boxing competition while training at the Olympic Training Center in Colorado Springs from 1981-1983.
In 1980 Mr. Salomone received his Orange Sash (black belt) and began his priest training. He operated several schools in Las Vegas before moving to Phoenix in 1990. He formed (AISDA) the American Institute of Self Defense Arts in 1993 while teaching thousands of students, from pre-school children to adults.
Mr. Salomone authored a book on Tai-Chi Exercise in 1996 and produced instructional videos with his knowledge of these arts. He has traveled around the country since 1997 teaching seminars and certification programs to students, martial art professionals, and the general public. These programs are offered in numerous cities and states including Nevada, Arizona, Colorado, New York, Virginia, and California.
Guros (Instructors)
+
-
Guro Kendall Coates, 7th Degree (Kombatan, Arnis)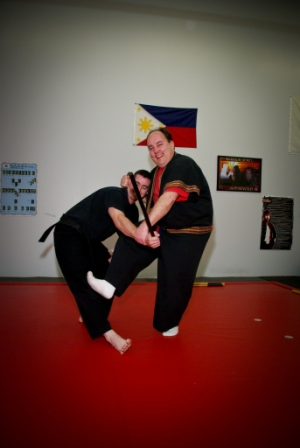 Guro Kendal Coats began his martial arts training in 1980 studying American Kenpo Karate. Guro Kendal met his teacher Dr. Ed Jackson, PhD. OMD, in 1995, studying the arts of traditional Arnis de Mano, Silat, Kenpo Karate, and Hilot (traditional healing arts). Most students of the arts are quite fortunate to find even one real martial arts instructor, while through the grace of God, Guro Kendal has had the honor of training with three true masters and continues to train each day, for he is a student of the martial arts first. In 1996, Dr. Jackson and Guro Kendal met and became personal students of Grandmaster Arthur Sikes (North American self Defense Association) in the arts of Kun Tao and Chinese Gung Fu. Sadly Grandmaster Sikes made his transition from this world in July of 2008. Guro Kendal was accepted as a personal student of Grand Master Ernesto Presas in 1998, and was promoted to Lakan Dalawa (2nd Degree Black Belt) in 2000. Since that time, Guro Kendal has continued his study of the art while teaching in Tulsa, Oklahoma, achieving the rank of Lakan Pito (7th Degree Black Belt) from Grandmaster Presas. The same rank is recognized by Dr. Jackson's International Arnis and Silat Federation. Guro Coats serves as the Secretary General for the State of Oklahoma for the International Philippine Martial Arts Federation (IPMAF).
+
-
Guro Larry Bears, 2nd Degree (Arnis de Mano, Silat), Head Instructor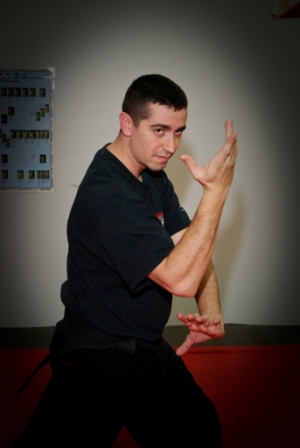 Guro Larry Bears began his martial arts training in 1998 under the leadership of Dr. Ed Jackson in the arts of traditional Arnis de Mano. In 2000 Guro Bears continued his training, studying Kombatan Presas style with Guro Coats. Guro Bears served as an apprentice instructor for the Tulsa Arnis Club for several years until the completion of his black belt in June, 2008. Guro Bears was promoted to 2nd degree Black Belt (Lakan Dalawa) by Dr. Jackson in April, 2010. Guro Bears completed the Level 1 Kinesiology course at First Nations College of Kinesiology and Healing Arts in 2010. Currently, Guro Bears serves as the Head Instructor for the Tulsa Arnis Club and is a practitioner of applied kinesiology and traditional therapeutics.